mating no birthing no
Nanaimo
♂
2
♀
2
Palartok
♂
3
♀
2
Setting
The two packs are based in the Canadian and Alaskan regions, during the 1960s. They thrive, no matter the conditions or disasters which they are struck with. In sticky situations, they pull through as one. Neither distance nor time can stop them. Do you wish to join them on their adventure?
Time and Weather
LATE AFTERNOON
Nanaimo Territory
the area is less elevated, therefore wind is calm and the snow has thinned out
Palartok Territory
snow is still somewhat deep, but traveling is not as difficult as before. Springtime will be delayed in this area
Freelands
wind is still harsh as always, though snowfall has steadied out and is not so abrupt as before
Staff
Milena
- Founder/admin
Sambhur
- Admin
Not sure who to ask for help?
MOTM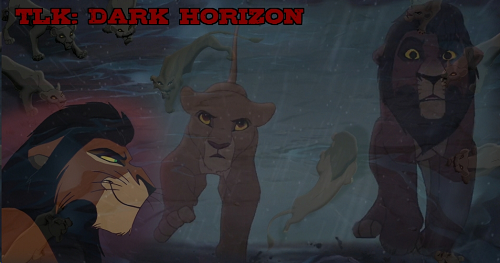 The final battle between the Pridelands and the Outlands is upon us, and both sides are ready for war. Mothers hide their cubs and fathers prepare their goodbyes, for no one knows who will survive the onslaught. But Zira's last stand will not be the final battle that everyone is anticipating. The final son of the tyrant Scar remains, plotting in the shadows with his partner and future queen. The hyenas have started to return, vowing their allegiance to Sibu. Kings will fall and new blood will rise.
Destruction is brewing... Are you ready for the fight?
Will you take the side of darkness and follow Sibu in his quest for revenge? Or will you take the path of justice and fight for what's right? Will your character be the one to die valiantly or will they be the one to save the day?
Dark Horizon is an alternate universe TLK roleplay that expands upon the story of the Pridelands and other territories, such as the lush jungle of the Lowlands or the sandy, dry Desertlands. With a word count of 250, it caters to not just one but all roleplayers with many opportunities to create your own story inside or outside of the Pridelands we all loved, with canons available and original characters encouraged.  Our community is growing, and we would love to have you as our storyline progresses beyond the script of Simba's Pride!

Is the canon character you want taken or deceased? Are you looking for a simpler way to begin at Dark Horizon?
There are lots of adoptable characters available in our Want Ads!

Milena

Administrator





Gender

:


Age

: 24


Location

: straya

---

Posts

: 110


Points

: 2098


Join date

: 2013-12-16





Similar topics
---
Permissions in this forum:
You
cannot
reply to topics in this forum